When Carmine and Agata Carbone opened their grocery store in Bolton in a 2,000 square foot mechanics garage, they saw the growth potential of the small village.
Garden Foods was nestled in the middle of vast fields at that time and employed around 12 people.
Bolton and the independent delicatessen have grown tremendously over the past 40 years.
YESTERDAY AND TODAY: Garden Foods Ltd. when it opened in Bolton in 1981, and the independent store today. (Peel Archives / Metroland file photos)
---
The store, which is now 20,000 square feet and employs 120 people, is surrounded by housing developments and plazas.
But what has remained the same is the commitment of the Carbone family to running a business that supports its community.
"Garden Foods has always been a community minded retailer," said Bill Parnaby, of brokerage Royal LePage RCR Realty in Bolton.
"By offering support at all times, beyond the grocery store, they are real community builders. "
Carmine and Agata opened their first grocery store in Toronto in 1972, then started Garden Foods in Bolton in 1981.
A family business, their three children, Piero, Linda Lupo and Dianne Carbone Barbieri, are also actively involved in the business.
The business is now owned by Piero and his wife, Rose Carbone.
Monty Laskin, CEO of Caledon Community Services (CCS), said Piero and Rose have been strong supporters, including hosting a charity golf tournament for the organization for many years.
"Always the first to answer my calls, always asking the right questions about what CCS hopes to achieve with our initiatives, always ready to be as creative in supporting CCS as we like to be in our programming. And always kind to everyone in our organization and humble about their immense contributions to our work, "said Laskin.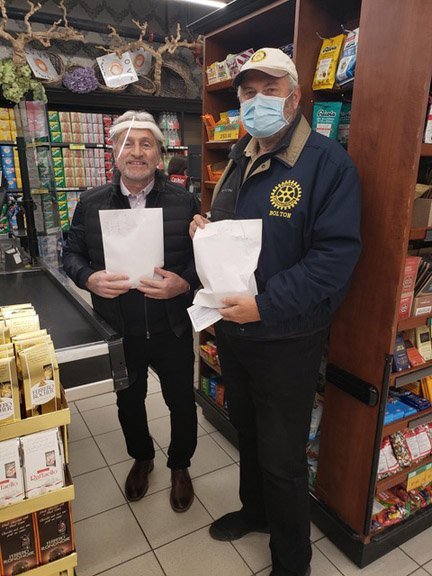 Ed Broeders, of the Rotary Club of Bolton, with Piero Carbone, owner of Garden Foods, wearing face shields and masks in Spring 2020. Gardens Foods donates thousands of dollars each year throughout the community. (Metroland file photo)
---
With CCS, the Carbone family and Garden Foods regularly support Bethell Hospice, Bolton Rotary by helping with the annual Santa Claus Parade and the Albion and Bolton Agricultural Society.
"Garden Foods is a staple in our community, always supporting local community groups," said Heather French of the Ag Society.
"Piero is a big-hearted, generous, community-minded businessman. We are fortunate to have such a compassionate local business in our community, "she said.
Not only have the family contributed thousands of dollars to local charities over the years, the business has also been a constant source of employment for many.
"Garden Foods is a truly admirable family business," said Bob Fines, owner of Fines Ford in Bolton.
"The Carbone family are always strong supporters of the community and are definitely a go-to person when you need help. I believe one of their most important continuing contributions is the hundreds of jobs they have provided over the years for the youth of Caledon. I am proud to count Piero as a friend and colleague who owns a business.
To reward its hard-working staff, Garden Foods had a scholarship fund that would help send a staff member to college or university.
Carmine died in February due to complications from COVID-19, so he couldn't see the store celebrating its 40th anniversary this month. But his legacy has continued in the company he created.
"Garden Foods is a valued and caring member of the Caledon business community. The Carbone family are generous supporters of the community and responsible business owners and operators and I wish them a happy 40th birthday and many years of success, "said Mayor Allan Thompson.
We wanted to examine the impact that the Bolton Independent Grocery Store, and the family who have owned and operated it for 40 years, have had on the community.