If you are a big fan of COMMUNAL RESERVEwith its chic design, amazing food and great beers, then there's some exciting news for you! MUNICIPALITY X in Taikooli from Sanlitun has now also joined the COMMON RESERVE Series.
COMMUNE X is the brand's first purpose-built store with a team of top-notch international designers. But it's not just sleek design that you find here. With a new line of products and an improved membership system, they put the X in their name to good use by offering something completely different from what is available at other brand restaurants.
COMMUNE X will offer creations seasonal menusstarting with an autumn menu filled with hearty, hearty dishes that also showcase the flavors of the season.
Here has the pekingese we're still focused on burgers and pizza, and COMMUNE X really raises the bar on that front. Their new Pizza Tartufata (RMB 128) has a creamy béchamel sauce base topped with black truffle paste, mozzarella, mushrooms and fresh basil. When using truffles it can be so easy to overpower the dish, but here they strike the right balance, making a pizza that gets better with every bite. What's even better is that members can enjoy this and all their other pizzas to buy one, get one free every Monday from 2 p.m. to 10 p.m..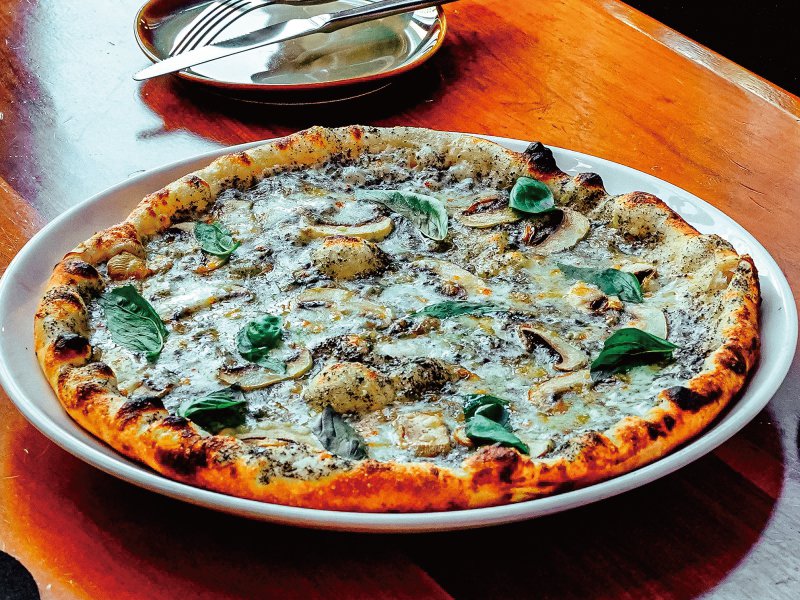 On to the burgers, the star of the show has to be the Classic Bacon and Cheese Burger (RMB 78), which sees a juicy wagyu beef patty topped with strips of miso-maple bacon cooked to the perfect amount of crispiness, fried onions, cheddar cheese and Dijon mustard mayonnaise, all taken in sandwich in a brioche bun. Served with a side choice of onion ripper tempura, side salad, fries, or sweet potato fries (+RMB 18), this is a burger that umami dreams are made of.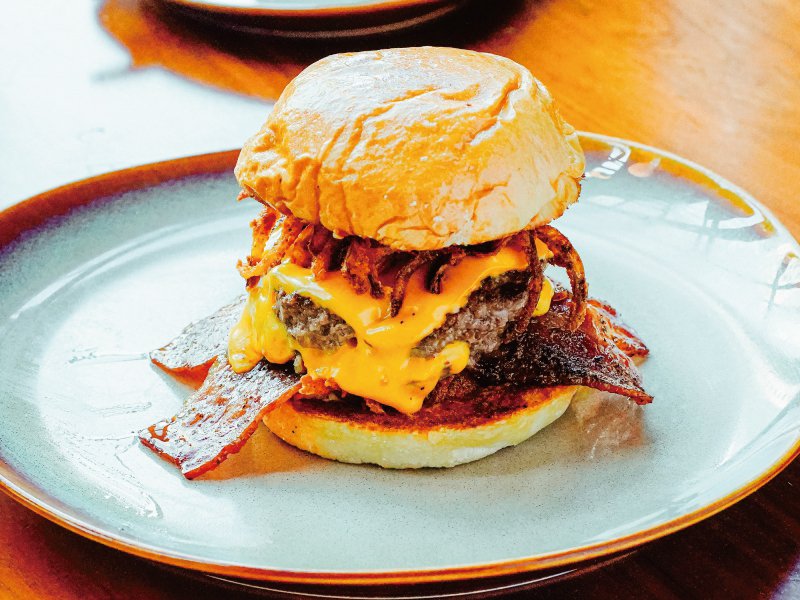 For those looking for something a little more decadent, there's the Frutti Di Mare Pasta (RMB 198), a delicious seafood pasta dish consisting of lobster, prawns, mussels, scallops and baby squid tossed in a tomato and prawn sauce. For good pasta with meat, there is the copious Beef and Sausage Stew (RMB 158), which combines pancetta, braised beef cheek, sausages, prawns, mushrooms in a San Marzano tomato sauce, served with rice.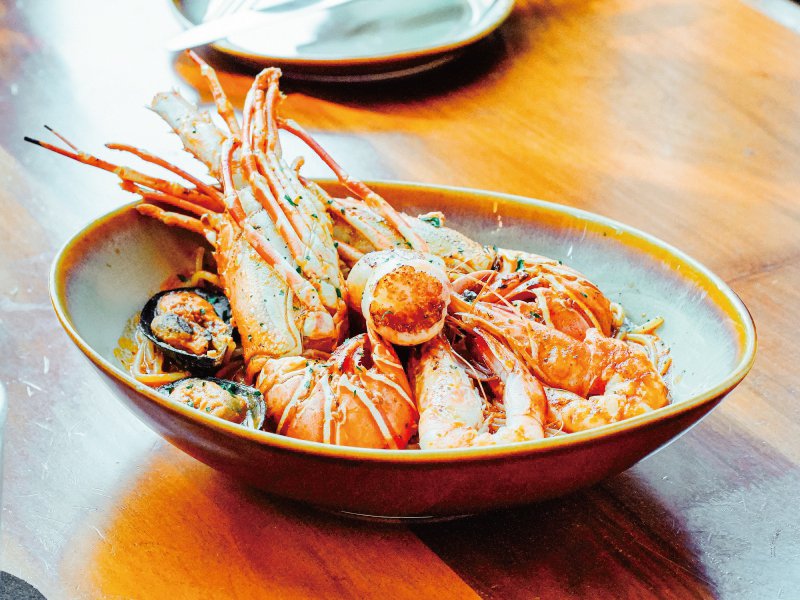 In addition to the main courses, they also have a wide variety of starters and dishes to share which are ideal to enjoy with friends or family while sipping one of the many beers or cocktails of COMMUNE X (more on those later). They have great share boards like the Antipasto board (RMB 138), which features salami, pastrami, prosciutto, smoked salmon served with breadsticks, sour cream, olives, sweet and spicy nuts, and seasonal fruits.
Another first choice is the Plate of homemade dip (RMB 88) with three homemade dips: guacamole, sour cream cheese and hummus, as well as artichokes, olives and an array of raw vegetables and pitta bread for dipping.
If you are looking for something truly unique then their Cheeseburger spring rolls (RMB 78) are a must, taking traditional Chinese spring rolls and filling them with ground wagyu beef, grilled mushrooms and onions with cherry dipping sauce on the side. But it's not just new dishes that are on offer, with some tried-and-true classics also being added to the menu, like the fan-favorite COMMON Crispy Chicken Wings (RMB88).
Beyond their main menu, COMMUNE X has also introduced new lunch offers with three different sets available. You can get a soft drink, coffee or tea with a main meal for only 68 RMB, or for RMB 98, also get a starter. To enjoy all of this, but with higher priced main meal options like the Beef and Sausage Stew you can pay 128 RMB. Along with lunch they also have a great brunch menu with classics like Chicken and Waffles (RMB 108) or more unusual offers like their Crab Benedict (RMB 118) which is a great twist on a traditional brunch dish.
To top it all off they have a range of desserts including their own exclusive ice cream. They teamed up to create COMMUNAL RESERVE X Gelato VAI and offer nine different gelato flavors, including a vegan option, all of which can be consumed or ordered for takeout or pick up in store.
Now, of course, we couldn't talk about COMMUNE·X's new menu without taking a look at what you can wash it all down with. They have upgraded their beer selection to include their famous craft beers from COMMUNE RESERVE.
For IPA fans, there is the Wild West Cosmic Thing Hazy DIPAor for those who like fruit beers, there is the super refreshing Craft Head Life is Peach. In addition to draft beers, they also have a huge selection of bottled beers. In addition to beer, they also have a great cocktail menu with staples like Aperol Spritz Where Mojito as well as their own creations like COMMON Zombie. They also have a range of wines, coffees, teas and soft drinks for non-drinkers.
To go along with their stellar drink selection, they also have two amazing happy hour deals for members. Every day, including weekends and holidays, members can enjoy buy one get one free craft beer and cocktails 2-5pm and on Wednesdays, members can get buy one get one free on all beers in the cellar and in barrels from 9 p.m. to 1 a.m.
As if that weren't already enough, they also free flow craft beer Sunday-Wednesday 9pm-midnight for RMB 188 and Friday-Saturday 9pm-midnight for RMB 238. And don't forget that members also get buy one get one free pizza monday! To join, all you have to do is scan the QR code below and follow the official WeChat account of COMMUNE RESERVE. New members will immediately receive a 300ml glass of designated beer, courtesy of the house!
What are you waiting for? Head over to COMMUNE·X in Taikooli and try their new and improved menu for yourself!
MUNICIPALITY X
Sanlitun Taikoo Li South Area S8 F3, Chaoyang, Beijing
北京市朝阳区三里屯路19号院8号楼3层S08-3内S8-31单元
All of these exciting new menu items are also available at COMMUNE RESERVE who have also updated their menu. This means that there is not one, but of them excellent places in the capital where you can enjoy this delicious cuisine!
COMMUNAL RESERVE
101, 1F, Beijing Guanghua International, 6 Xidawang Road, Chaoyang District
朝阳区西大望路6号光华国际大厦1层101
Images: Courtesy of COMMUNE X, The Pekingese